Fetch a print at a store near you: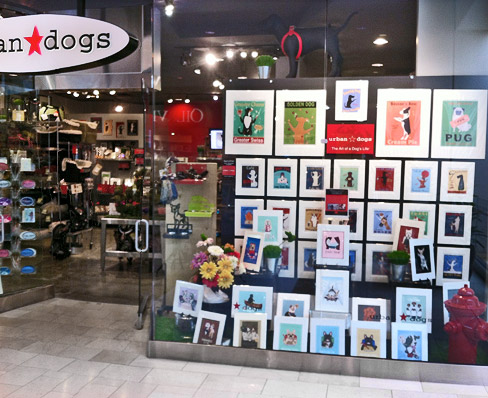 See us at "Urban Dogs" In Bellevue Square, alongside fellow painter Ken Bailey.
Arizona
Oregon
Washington
Can't find a store near you?
Help us find one.
Contact Us. We are looking for the perfect stores to go with our unique collection. Do you know of a great store or dog boutique that we should sniff out? Send them our way. We'll handle the rest.
Are you a store owner?
Smell something fresh.
Do you have a dog related service or store? A "one-of-a-kind" curation of humorous and whimsical pieces? Is it time for something new in the shop? We have Prints of all sizes, shapes and colors... Packed, Labeled, and ready to sell. Complete with barcodes for easy inventory management and entry into your POS system.
We are only just getting started with our 2013 collection of "Dogs bred for laughter" by Laura Bergsma. There are many more on the way as she follows her mission to capture the secret essence of each breed. Please contact us and let us know you are interested in wholesale information.