Commission a Painting of Your Dog
Custom dog art of your dog doing something they love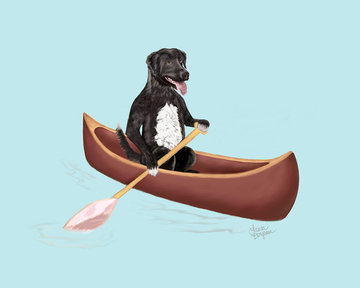 A self-commissioned portrait of our dog "Aki." She doesn't swim – and hates riding in canoes, so the joke is on her.
Does your dog love running after you on your bicycle? How about a portrait of your dog riding the bicycle? Does he or she love swimming? How about a portrait of your dog doing the crawlstroke or the backstroke? We'll work together to Pant the perfect pet portrait! Please contact us with a short description of your idea for a price quote.
Custom Options and Color Alterations
Add your pets name to any print... Add your pet to any existing portrait... For example you could swap out the Lab-mix (my dog, Aki!) in Doggie Paddle and I can put your pooch at the paddle. Or you may just want to change the color and markings of one of the dog characters so that it looks like your dog. Have a change made in the background color and other select colors, such as Corgiroys overalls. We reserve the right to not print what we feel may compromise the integrity of the art.
Prices vary according to the ease of the change.
Custom Enlargements on Canvas
Canvases are printed on demand and come in a variety of sizes. Due to sizing, cropping and mounting options, prices vary. Please contact us so we can help you choose your perfect size!